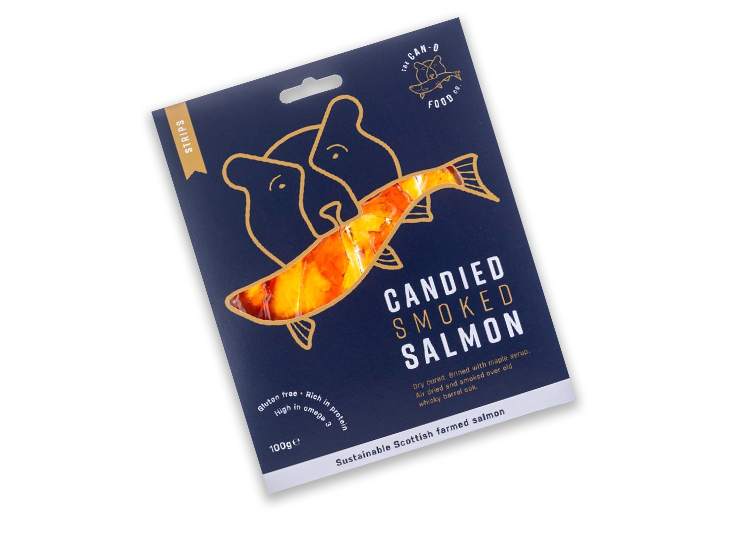 Our salmon is a uniquely-flavoured, savoury-sweet, satisfyingly-chewy treat, perfect with a glass of cold beer or chilled fizz. We think you'll never have tasted anything like it.
Meet Brian Bearu. Brian is our co-founder and chief taster. An Irish-Canadian black bear, he is directly descended* from High King of Ireland Brian Boru, who lived around the 11th Century. Our Brian's Irish grandparents emigrated to Vancouver Island in British Columbia in the sixties to begin a new life in the forests. It was there they were introduced to the Canadian First Nation tradition of candying and smoking salmon to preserve it.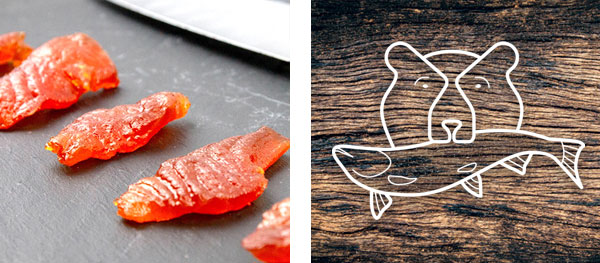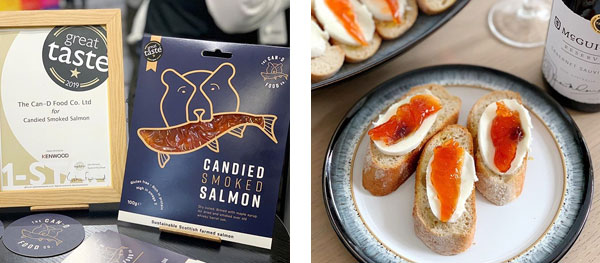 But having only paws, and with no access to a vacuum-packer, Brian's dream of bringing his candied smoked salmon to the wider world remained unfulfilled. Until one day, fishing by the river, he met Niall Carroll. Niall was holidaying in BC and their shared passion for salmon (and, it turned out, for curing, brining and smoking stuff) instantly connected them.
They flew back to Niall's East London home together and founded CAN-D. Hundreds of hours of testing and development with a backyard cardboard smoker followed. Together they ate a lot of salmon. Then at last they found the right mix of ingredients – sea salt, maple syrup and honey – and perfected the process of air drying and smoking the fish over old whisky barrel oak. The result was the first commercially-produced candied smoked salmon outside North America.
* The annals provide no record of Brian Boru taking a black bear for a wife, but the ancient king was known in Norse-Gael and Scandinavian sagas for his "complicated marital relations".
Wholesale information
Our salmon is low in saturated fat and packed with zinc, vitamin D and omega 3 fatty acids.
Ingredients
Scottish Farmed Salmon (Salmo Salar) (FISH) (prepared with 200g of fresh salmon per 100g of finished product), Maple Syrup, Honey, Demerara Sugar, Sugar, Kosher Salt.
Shelf Life
4 months ambient from production, delivered with a minimum of 60% shelf life remaining.
Storage
Ambient delivery but please sell from the chiller for best results. Suitable for freezing
Kosher certified with KLBD
Great Taste Award Winner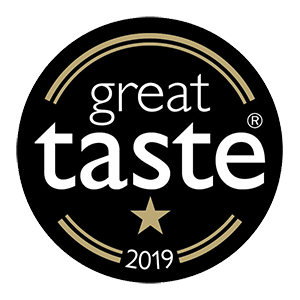 Our candied smoked salmon is made with our bear hands in small batches to a traditional Native American method.
We make candied smoked salmon. We take sustainable Scottish farmed salmon and slice it against the grain. It is dry cured, then brined in a special mix of salt, honey and maple syrup. Then we air dry and smoke it over whisky barrel oak, creating a uniquely-flavoured sweet-savoury treat.
We've done years of testing and development to get the perfect flavour and texture. The result is (we think) the first commercially-available candied smoked salmon in Europe. It's pawsitively delicious with a cold beer or glass of chilled fizz.
Our salmon is low in saturated fat and packed with zinc, vitamin D and omega 3 fatty acids.
100g per pack. Keep refrigerated 0-5°C. Eat within a week once open. Not suitable for freezing. Shelf life: 12 weeks.