Woodforde's Ale Trail 2022
We are always up for smart initiatives that get people out of the house and into pubs and East of England based Woodfordes brewery has just launched their late Spring, early Summer 'Ale Trail.'
The concept is simple: The Ale Trail is a fantastic event in every ale lovers calendar, and Woodfordes would love you to join them. From Saturday 23rd April to Saturday 23rd July, you will have the opportunity to travel around the East of England, visit great pubs, collect stickers and win prizes! With hundreds of pubs in several counties taking part, it's a great chance to get out and explore different areas and different pubs.
How it works
Help support your local pubs, whilst enjoying your favourite Woodforde's ales.
Visit a pub listed in the pub guide
Buy a pint of Woodforde's ale
Request a sticker that you can then redeem for great prizes
For each pub you visit on the trail, you receive a sticker and get one step closer to winning prizes!

Here's what you could win.
12 Stickers – Ale Trail 2022 T-shirt
24 Stickers – 1 Case of 8 x 500ml Bottles (Or 1 Case of 12 x 330ml Craft Cans)
36 Stickers – 1 x 5l Mini Keg
48 Stickers – 2 Cases of 8 x 500ml Bottles (Or 2 Cases of 12 x 330ml Craft Cans)
60 Stickers – 1 x 18 Pint Beer Box (Or 2 x 5l Mini Kegs)
72 Stickers – 2 x 18 Pint Beer Box PLUS
Entry into the draw for the Norwich City PC Experience and Brewery Tour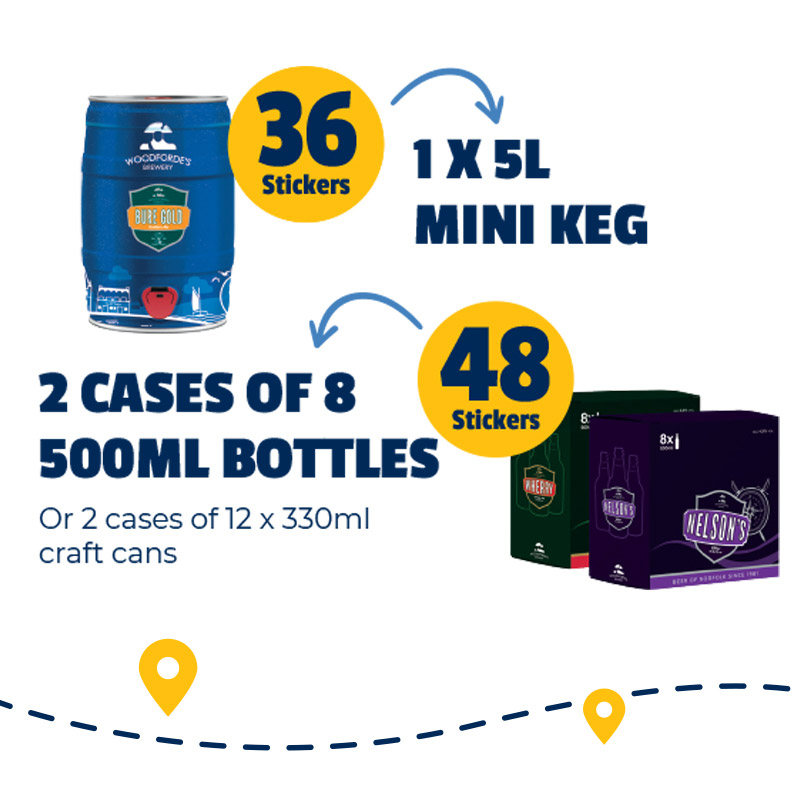 How to collect your prizes
Once you have collected enough stickers to claim a prize, bring your pub guide to the brewery shop.
Woodforde's Brewery Shop is open 7 days a week from 10am – 5pm.
We think this is a great initiative, please let us know if you know of or run a similar scheme, be it a brewery or a town/area. In Stratford upon Avon over the long weekend of the annual food festival local pubs and restaurants run a similar scheme. Food samples and drink discounts for visitors with the trail passport card and great benefits for bookings and next visits.
And if you are in the East of England over the next few months get into a local Woodford's pub and get drinking. Here's a link to the Woodforde's Ale Trail page to get the critical info.
And if you want to try the Woodforde's range for your business it's ready and in stock in the Comesto warehouse.
Place your first order here and get a discount on your next order