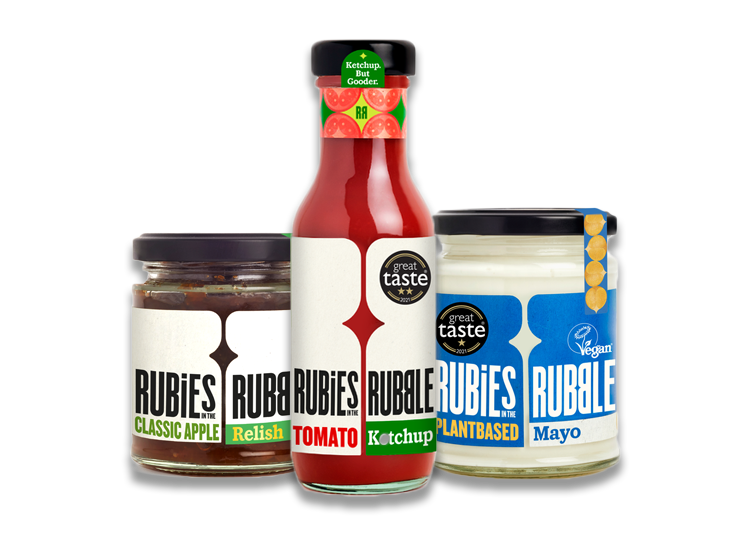 We make award-winning condiments, made gooder by using delicious ingredients that would otherwise go to waste – not because they taste any different, but often because they're the wrong shape, size or colour.

Some say it's a load of rubbish, we take that as a condiment.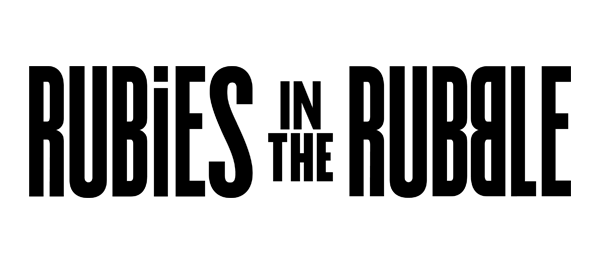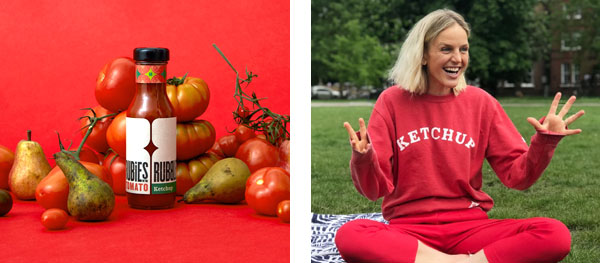 Our ketchups and relishes are made with fresh fruit & veg sourced directly from farms, whilst our mayos are made with aquafaba, a plant-based alternative to eggs that is usually thrown away. Condiments are a fantastic way of preserving produce by extending their shelf-life with vinegars and sugars. In other words, less waste, more taste.
Growing up on a farm in Scotland, Rubies in the Rubble founder, Jenny, learnt to be resourceful & creative with food. Reading about the problem of food waste, Jenny was shocked by the amount of produce that is rejected because it doesn't look perfect. She began rescuing produce from New Covent Garden market and experimenting in the kitchen with childhood recipes for jams and chutneys.
Fast-forward 10 years and Rubies in the Rubble is one of the pioneering voices in food sustainability, with an award-winning range, stocked nationwide.
Wholesale information
A third of all food produced globally is wasted
Surviving the journey from farm to fork is a complicated process with many hurdles along the way. Some produce is discarded before it even leaves the farm, some is rejected when it arrives at the supermarket or restaurant and some simply ends up in a household bin.
We make good things gooder
That's why we took the nations favourite condiments and asked, 'how do we make them gooder?', the answer? Ditch half the refined sugar and pack them full of fruit and veg which would otherwise go to waste.
What impact is Rubies making?
Since we started out, here's the positive impact that our products have had. With your help we can do even gooder!
351,600kg of fruits and vegetables saved and used
294,500kg of CO2E saved
896,436 transport miles saved
Rubies in the Rubble Tomato Ketchup (3 pack)
A great-tasting, sustainably sourced, 100% natural ketchup that contains twice the fruit and half the refined sugar than other leading brands.
Available in a 10,000ml catering pack.
Rubies in the Rubble Plant-Based Mayo (3 packs)
Smooth and creamy mayo made with aquafaba as a plant-based substitute for eggs so that vegans can enjoy it too! Aquafaba is the nutrient-rich water left over from cooking chickpeas which would normally be thrown away.
Available in a 5,000g catering pack.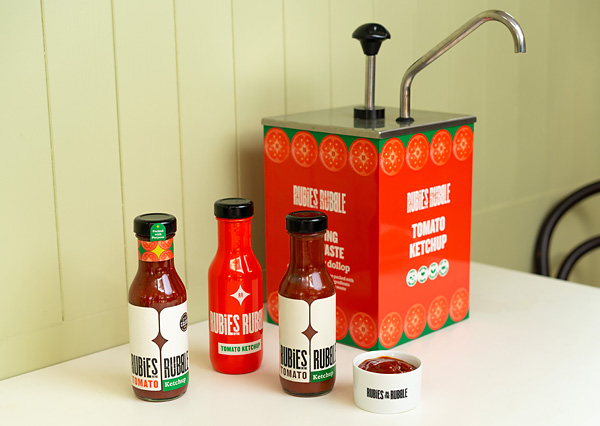 Free branded dispensing equipment
We have a range of branded dispensing options to suit your operation. These are free when you buy our products.
Just click the button to contact us and we will advise you of the best options for your own situation.