Hospitality Buyers – Habits are changing
Have hospitality buying habits changed after the lockdown?
We thought you might like to see some of the feedback from a piece of research we commissioned.
With many thanks to our friends at Warwick Business School, who supplied the research sources and the project management lead by MBA student Kanika Pathania, we have received a powerful piece of insight regarding current methods of purchasing F&B products for the trade and if e-procurement is becoming the norm.
We asked the team at Warwick to help us find out more about the effects of the shutdown on the hospitality industry, the changes they found as the industry opened up again and what they need from wholesale suppliers in this new environment.
The primary target market for this piece of research was decision-makers in independent bars free-houses, independent restaurants and cafes. We wanted to assess their thoughts on procurement methods since the partial reopening of the industry what the problems were and has this changed how they operate?
Details of our respondents and figures are commercially sensitive – but here's a snapshot of some of the findings.
We have heard a lot about the uptake of e-procurement and how this is growing in popularity. In percentage terms, we found that approximately two-thirds of our target market was already using digital ordering in some format.
What is the current procurement method and scope of e-procurement from our target market?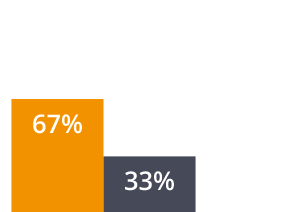 The target market is aware of e-procurement and 67% of non-users are interested to adapt to e-procurement.
67% of respondents were currently using e-procurement to purchase food and beverage products.
33% of respondents were not using e-procurement to purchase food and beverage products.
Then when we break that down into the broader online/offline split.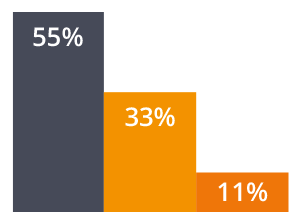 11%
of respondents place orders online only.
33% of respondents place orders online or via telephone.
55% of respondents place orders online, email and telephone.
When we asked what was important to them about what an e-procurement service offers we found that Price and Product are still King.

What are the main barriers to e-procurement experienced by trade buyers? We found that managers and buyers are wary of expensive and difficult to master software solutions. Light touch web-based applications are preferred, services that require little or no training and are fast simple and intuitive.
Do you use an e-procurement service and list any areas in which it could improve?

Conclusion
Most respondents are embracing e-procurement or intend to do so in the near future.
Lack of availability for sales visits and calls during normal office hours is a constant problem for suppliers wishing to offer a good service. Buyers know this and see e-procurement as a way of meeting their supplier's needs – COVID restrictions have highlighted this benefit of e-procurement
The perception is that e-procurement gives them more control but critically they still need the human touch when it comes to managing ordering new stock items or just managing their account. The pure digital model is not yet suitable for this industry
The on-trade economy is ready for a re-set. If your wholesaler/distributor doesn't stock the F&B items you need, if the tail is wagging the dog – let us show you how a dynamic procurement platform can be designed to your specific needs with no cost at all.
Contact us at Comesto to find out how we can increase purchasing choice and cut out the friction in both buying and selling in the on-trade.
Find out how Comesto can help you with e-procurement.