Phil Grice talks golf and hospitality
"If you want to combine exercise and socialising with great hospitality golf is the sport for you"
Phil Grice Chairman GM of Royal Norwich Golf Club Ltd and Chairman of the Golf Club Managers Association.
One of the most popular participation sports in the UK, golf is played by six per cent of the population on a regular basis and we have twice as many golf courses as any other European country. The occasional criticism of golf as a bit of a cliquey pastime has now long passed, replaced by a growing awareness of the fact that it's an excellent way of getting exercise, with opportunities for many levels of fitness, excellent social benefits and rising standards in hospitality.
One of the people working to promote and improve the image and the reality of golf is Phil Grice General Manager of the Royal Norwich Golf Club and Chairman of the Golf Club Managers Association. With a background that includes being a golf pro and senior sport focused Brand and Marketing Director, he has impeccable credentials for enabling golf clubs to raise their game across all aspects of membership services. Phil has kindly given us some of his time to answer questions about his philosophy of supplying the best and how this works with golf club hospitality
We caught up with Phil just as courses were able to open up after the lockdown, but as yet no clear messaging around opening up the all-important hospitality services golf clubs offer.
Comesto: Phil how has golf fared during the lockdown?
Phil: It has been a very trying time. Golf clubs and their courses simply cannot be shut down and expenses trimmed to nothing. The whole infrastructure of the courses and the buildings needs maintaining and securing and this means that many staff have to be retained at a time when we have no income to support these costs.
C: Courses will soon be open for playing but no messaging around the supply of food and drink as yet what are your plans?
P: Golf managers will stay within the guidelines and as with other areas of hospitality get creative in supplying a safe service to support our members, but financially any part opening is not supportable in the long term. We are now at the start of Summer high season and with financial support and realistic operational guidelines and our members wanting to come back and support the clubs they invest in we could quickly start to recoup those losses caused by the lockdown. We are now at the start of what should be summer and our high season but with a lack of financial support and uncertainty around reopening our members and visitors' support will doubly be needed to help start recoup those losses caused by lockdown.
C: Thinking now about when things get back to normal, you have been at the forefront of a new direction in golf club hospitality not just for the Royal Norwich but with your Golf Managers Association hat on you have been promoting better facilities and products at golf clubs as a broader movement, how did this come about?
P: Quality, choice and provenance they all matter, it's so important for our members to be offered the best and be looked after. As a managing committee, we knew our offer at the Royal Norwich was good but we wanted to make it better. Our research took us outside of golf and into wider leisure and hospitality and new market trends which steered us towards our new offering. This meant not only searching for and purchasing quality items for both bar and kitchen but also assessing what we could supply ourselves.
C: Your club is getting a deserved reputation for quality food and drink and you went down the radical route of installing a microbrewery and a professional pizza oven, tell us more.
P: We had the space and the infrastructure to be able to invest in these services and we had to do a lot of convincing at board level, but the gamble has paid off; it's a selling point and it covers off the two best selling products we sell on a regular basis. For many members, a homebrewed pint and homemade pizza after a round of golf is a popular choice and it's valuable to be in complete control of the taste and quality of each. The beer is brewed on-site by a professional and we can adjust the brew, the taste and strength to suit the seasons and we didn't just buy the oven, we also make our own pizza dough served with a range of quality toppings. As with all aspects of our offerings we quality check and assess customer reaction satisfaction levels and when feedback is positive on the quality compliment us on the quality of both our house beer and own home-made pizzas we know we have made the right move. Our customers can taste the difference.
C: But it's not just the post-game snack and refresher that impresses – one look at your website and you can see how the broader food and drink offer follows the same philosophy, a structured bar and menu offer that takes customers through from an impressive breakfast menu through to afternoon teas, evening meals and events.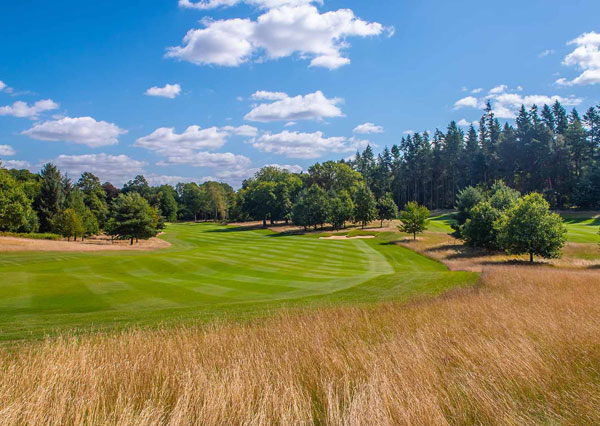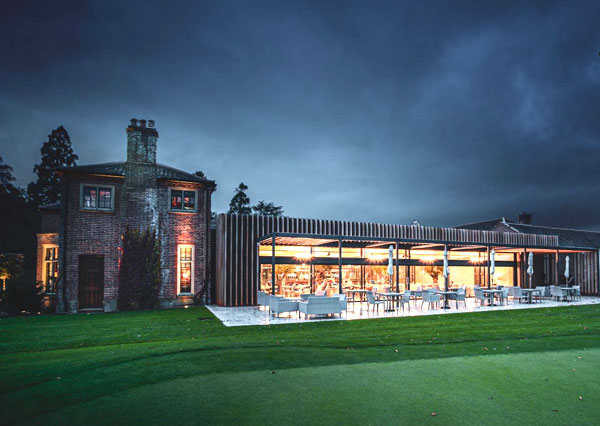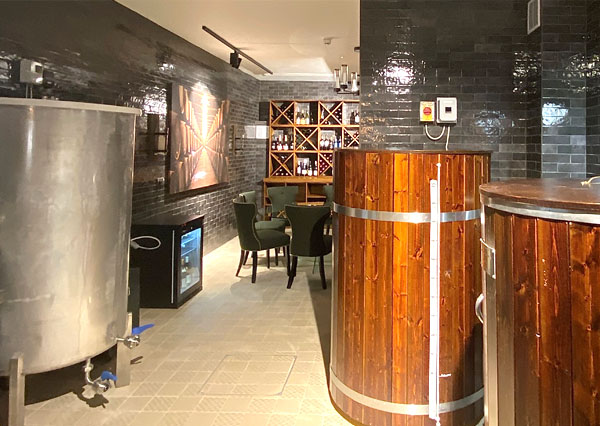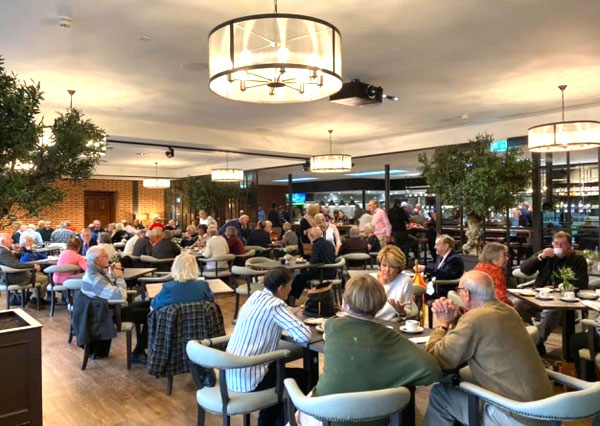 P: We aspire to match the quality and inspiration of restaurants that are of a high standard approaching Michelin star and a bar offer that supplies a full range of interesting drinks – from innovative soft drinks to quality wines and spirits. We also work under the extra pressure that we serve our members and their guests, they are both our customers and our investors, our audience can be finite and we need to impress them and we need to be creative and keep standards high. We need to be their first choice be it for a business meeting, a family meal or a company event, we have worked hard to get the offer right. We benefit from this and part of my Association job is to work with other golf club managers and guide them through the experience we have had raising the quality of the hospitality output.
C: Working with your colleagues in the Golf Managers Association, what is the key message to assist them in raising their offer?
P: There is a general agreement that although there are different types of golf club and clientele, we all need to ensure golfers both at their own club and also visiting other clubs receive a level of service that justifies their investment into the world of golf and maintains the highest standards. Obviously We are fortunate and not every club can build a microbrewery or invest in a pizza oven, but again I come back to my belief on supplying quality, choice and provenance.
C: It's a philosophy that rings true for us at Comesto, our mission is to improve the choice and standard of products wherever people pay to eat and drink out of the home. We have recently teamed up with 59Club the golf mystery shopping and benchmarking service with the aim of working with clubs that aspire to top quality standards in hospitality by providing exciting new products for the bar and kitchen. Hopefully, by working with 59Club clients we can follow the example of the Royal Norwich. Any tips?
P: By their nature 59Club clients are clubs that are working towards excellence. It's a valuable service that provides satisfaction surveys across every aspect of what a golf club offers. When benchmarking their hospitality output the range of food and drinks on the Comesto marketplace should be a valuable ongoing resource for finding those customer-pleasing products that can make all the difference. Anything that assists F&B procurement professionals in their job of sourcing the best products and makes it easy to order stock check and reorder has to be a step in the right direction.
C: Finally, any golfing tips for a left-hander that tries hard but can't seem to get the handicap down?
P: Certainly, invest in a good set of your own clubs, nothing special, but it helps commitment and as a left-hander, you know you have the clubs available. And book yourself some golf lessons…but it is vital that you practice between the lessons to put into practice what you have been taught. Then get some training, just a couple of sessions will dig out some of the faults and guide you to a better technique. And do join a club and reach out to other members who have a similar pattern of free time available and are of a similar standard, get regular games in and finally make full use of the facilities. A philosophical assessment of how you will improve your game always feels better with a drink and a snack in good company.
Many thanks to Phil for his time and insight into the world of golf hospitality, please check-out the Royal Norwich Golf Club here.
If you are interested in improving your food and drink procurement operations Comesto can help, please click here to find out more.
And through our partnership with 59Club Comesto is now offering for the first time a benchmarking and satisfaction survey service open to all hospitality venues, offering invaluable insight into what your customers really want and what they think about your business, where you can improve as well as what they like about you.
Looking for a cost-effective professional and impartial service to improve your offer, click here.