Mr. Fitzpatricks
With a long history of manufacturing a huge range of exciting fruit cordials Mr Fitzpatrick's is leading the charge revolutionising the profile of soft drinks available to the on-trade. For great tasting no-alcohol drinks or as sophisticated mixers for cocktails and coolers, the Fitzpatrick's range provides new tastes, new ideas and a distinctive branding that entices customers away from the same old options for both non alcohol drinkers and adventurous new flavour hunters.
To support and boost the growing interest and sales Mr Fitzpatrick's have experienced UK wide the company has invested in two new lines; a new range of canned soft drinks based on their ever popular retro and fruit flavours and also a new bar top installed spritzer machine.
The canned range covers three distinctive and popular flavours in 250 ml cans:
A Ready to Drink Proper Fiery Ginger Beer for the purists amongst you who prefer their Ginger with a bit more bite. Perfect as a revitalising drink or mixer.
A Ready to Drink Rhubarb & Rosehip blend of our best selling cordial
A mix of darkly rich red cherries and fruity red grapes with added notes of hibiscus. This drink has become a firm favourite and one of our top sellers
These drinks are a great standalone thirst quencher, but also popular as a mixer – Simply pour over ice and serve or use as a delightful mixer and add to your favourite tipple for an elegant cocktail.  Fizzy pop just got a makeover!
Mr. Fitzpatricks Aqua Spritz
The Mr Fitzpatrick's Aqua Spritz is the only single solution in the marketplace that dispenses a range of more than 25 botanically infused premium non-alcoholic drinks, still or sparkling water, dessert recipes and even spirit mixers/tonics. Achieve upwards of 85% gross profit per serve and incredible net revenues. Take further advantage of the near 100% margins available on water dispense, as well as the opportunity to simplify and consolidate your current chilled bottle and can products.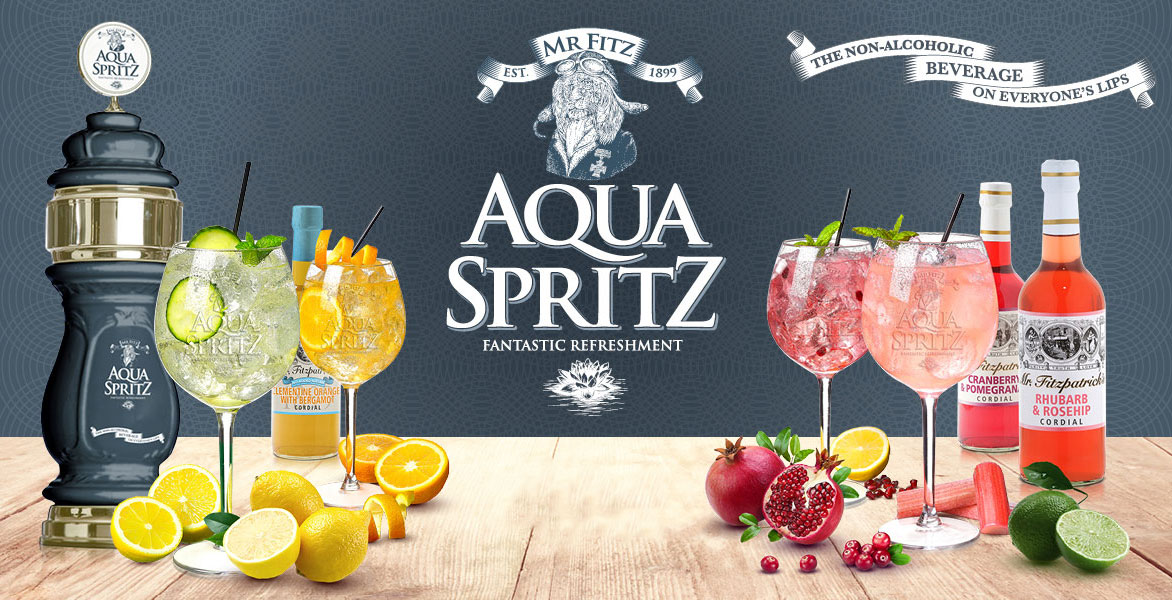 This is a fitted bar top machine that will add interest and distinction almost driving sales by its sheer presence. The key figures from the potential of this installation are compelling
Earn over 85% GP per serve

Enjoy Net Revenues of over £2.50 per serve

Make an immediate impact on your business with a Premium Offer

Drive new business within a quickly growing category

Opportunity to simplify and consolidate your soft drink range
Although the on-trade is totally closed at the time of publication due to Coronavirus, many of the landlords and venue managers we know are using this time to revise their offer – beers, snacks soft drinks, whatever will delight customers upon reopening. The Aqua Spritz is a new way of increasing profit per serve across a broad range of drinks and the team behind it are waiting to talk. Contact them here to find out more about the profit-making possibilities this installation offers.
Available to order on the Comesto shop now at tasty trade prices.